Can't wait to see you all
Latest COVID19 Situation – We're coming back very soon.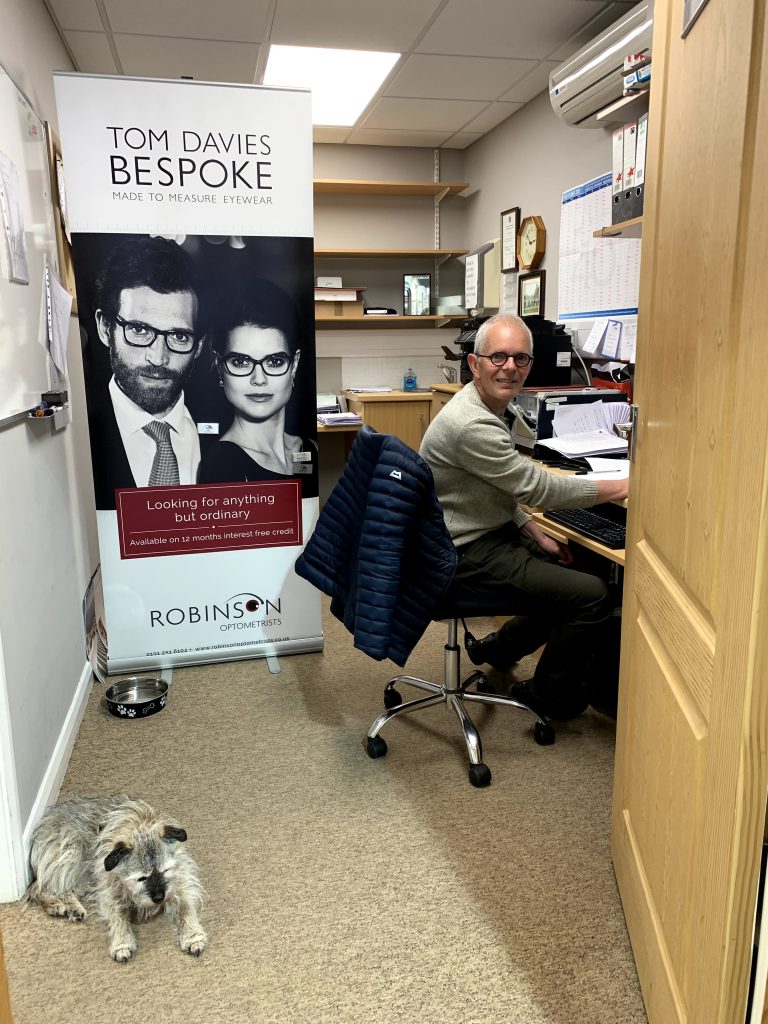 It's been a very lonely time watching over the practice with all the staff furloughed – We didn't even know what furlough was before March this year! Judith and Nigel have managed to keep the place ticking over; delivering triage advice on eye conditions, offering advice on visual problems, organising and delivering contact lenses and carrying out emergency repairs and glasses replacements.
Luckily we've had the help of 16 year old border terrier Mij to keep our spirits up. We are also indebted to our lovely customers who have been an absolute pleasure to deal with- THANK YOU!
We are delighted to say that the wait is almost over.
Week beginning June 15th:
we will be open Tuesday to Friday 9am – 2pm, and Saturday 9am – 1pm . Front line staff Lorna and Sue will be available to answer your queries, book appointments, help with glasses sales, and attend to any possible repairs.
Week beginning June 22nd and until further notice:
we will be open Monday to Friday 9am – 5pm and Saturday 9am – 1pm, optometrists John and Sophie will be back seeing patients face to face. You can book appointments for essential eye care in that period. The staff will be happy to guide you on what constitutes essential eye-care. We would highly recommend that patients choose our premium OCT examination; This gives the most thorough retinal examination as well as keeping safe distance between optometrist and patient.
The timings are likely to be amended to try and meet demand so please do keep checking this website for details.
Safety regulations
We have installed the following safety measures:
Safety screens set on reception desks
Hand sanitiser on entry and exit
Floor markings to ensure safe distance
Masks for Practitioners and patients during examination
Face shields, gloves and aprons for practitioners to be used as necessary
New instrumentation to measure pressure which does not have an aerosol effect
Automated instrumentation so as not to rely on traditional trial frames.
UV Frame sanitiser for display glasses (on order to arrive end of June (until then – frame cleansing process)
The health and safety of our patients and staff is of prime importance. Please do not come in if you or any of your household are suffering from COVID symptoms.
We are all really looking forward to welcoming you back.
Best wishes.
Nigel, Judith and All The Team